Thunderbird Addon: ColumnsWizard!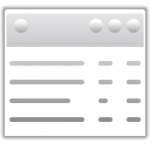 With this addon you can add some magic to the messages list columns!
Add a custom column directly from the addon preference window to show any mail header you want.
Set the default columns settings for any new folder.
Show hidden columns in the Conversation Tab.
Edit a mail header value for a single message.

How does it work?
After installing, open the addon preference panel to:
Show or add custom columns.
Set which column show in a new folder, and choose how to sort the messages in the folder.
Choose which columns you want to always see in the Conversation Tab.


Support this addon!
Are you using this addon in your Thunderbird?
Consider to support the development making a small donation. Click here!
Download
Download it from the Mozilla add-on site.
This addon is also opensource: get its code from github.

Bugs
To send a bug report use github.

Future improvements?
Check the issue tracker.

Thanks to…
Christopher Leidigh, for working hard on the Thunderbird 60+ compatibility.
Axel Grude, developer of QuickFolders addon, for his help in testing and brainstorming new features.

Thanks to BabelZilla for the translation support.
Icon courtesy of "Oxygen Team".